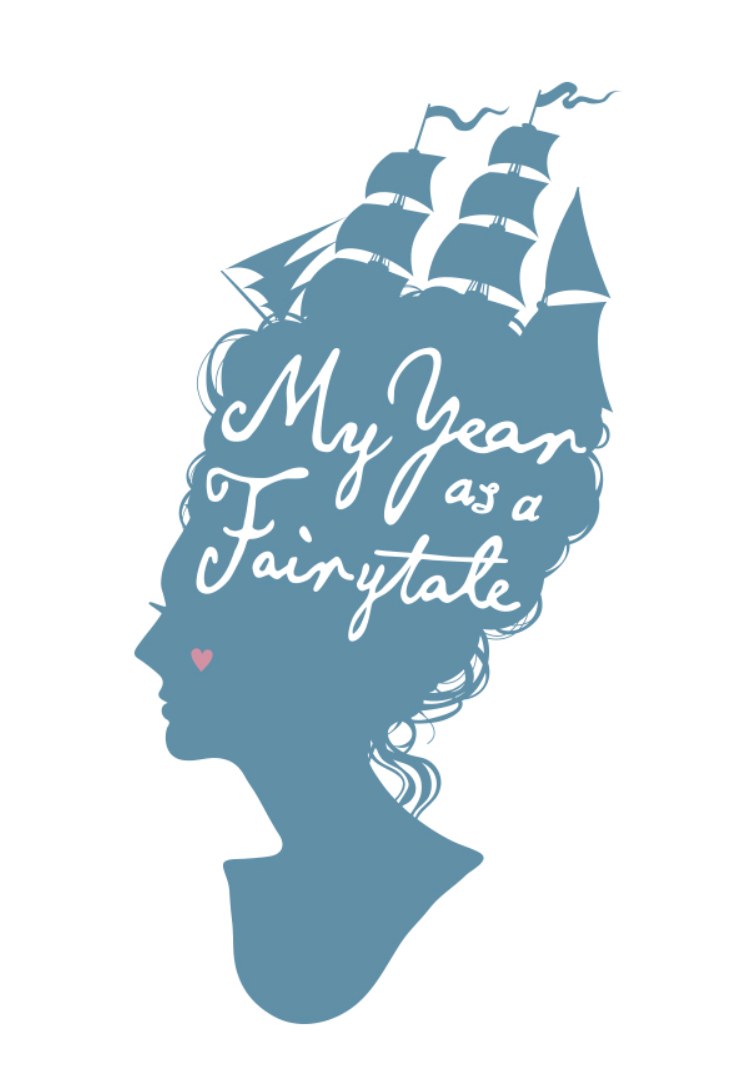 By Helen Hopcroft
I grew up in a single parent family in Tasmania but secretly always wanted to be a dead French Queen. Let your mind hover over a map of Australia, then zoom down into an uninspiring Hobart suburb circa 1979. It's probably raining. Picture an old weatherboard house beside the Derwent River, then imagine a stressed out single mother with a haircut that looks like a mushroom and a rebellious daughter. That was my family. For me, Marie Antoinette was the way out.
As a child, I was fascinated by the French Queen's luxurious clothing, insouciance and unashamed ability to take up space. It wasn't until 2017, however, that I finally ascended my own private throne. I was half-crazy at the time – nearing the end of a Creative Writing Doctorate at the University of Newcastle – when the uni suddenly announced that it was time for the PhD candidates to earn our keep. As graduation loomed, UoN's Centre for 21st Century Humanities told us that they wanted us to commercialise our research or use it to serve our communities.
After two day of brainstorming ways I could make money out of a PhD about fairy tales and The Arabian Nights, I had nothing. Niente. Nada. So I pitched a truly ridiculous idea. I told them that I would dress as Marie Antoinette for one year, 24/7, in historically accurate replica costume, and go about my everyday life in Maitland. My Year as a Fairy Tale would be a strange blend of performance art and community service that I would use to promote Maitland as a creative city and cultural tourism destination. I claimed that the idea was 'strange enough to work'. Most surprisingly, the pitch was successful.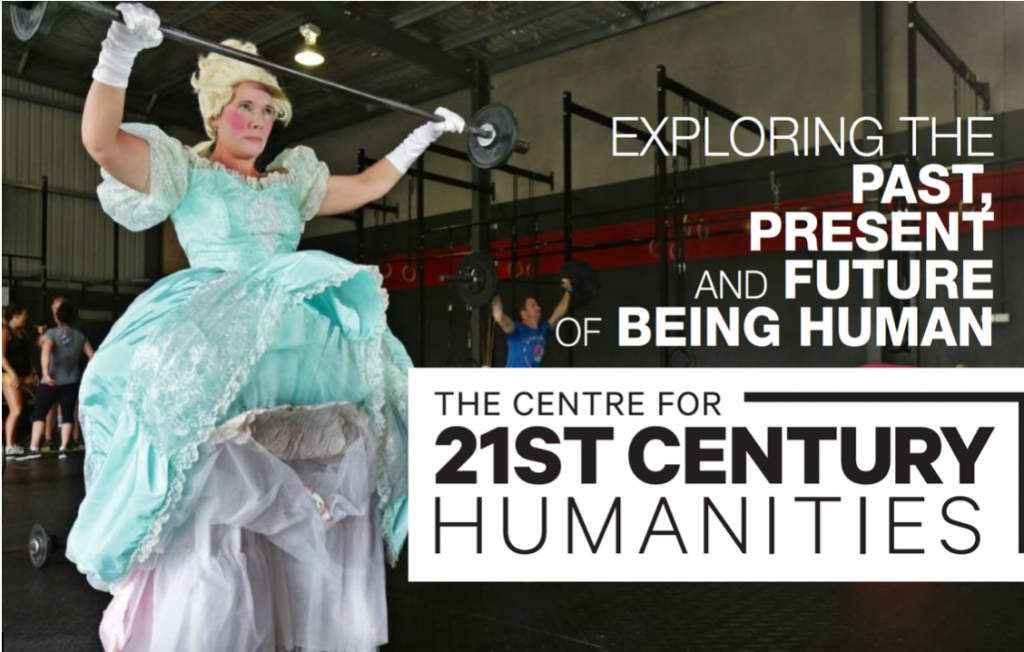 Oh, the terror of discovering that you have publicly committed to making a complete ass of yourself! And for a whole year, too! I decided to start the performance in Tasmania, where my fascination with Marie Antoinette had begun. On 1st May 2017, I flew to Hobart and began my year as the last Queen of France. I changed into eighteenth-century garb in my mother's cramped bathroom and didn't change out of it again until April of the following year. Memorable moments include fighting my way onto a crowded Jetstar flight – on the way home to Maitland – with a set of paniers that literally took up the whole aisle. (French for basket, paniers gave the skirts of eighteenth-century dresses their characteristic bell shape). And trying to do CrossFit in an elegant chemise and stays.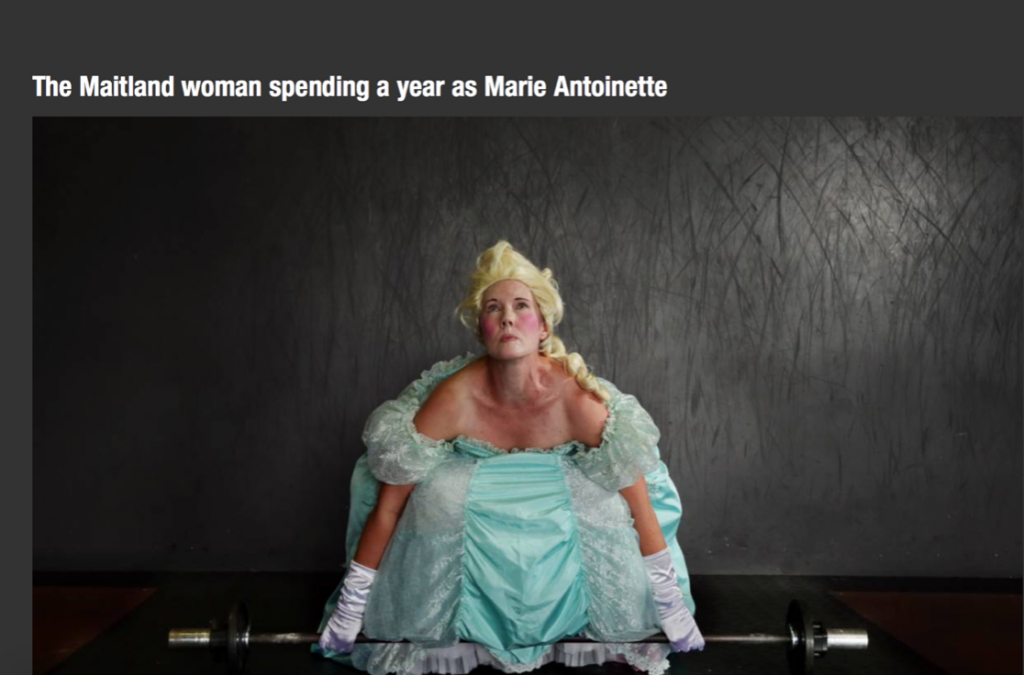 After the year was over, my obsession with Marie Antoinette refused to fade. The experience of transforming myself into French royalty – and the brutal juxtaposition of this costume with my home in regional NSW  – was oddly life affirming. After years of being a part-time arts worker, it forced me to put creativity front and centre of my own life. While dressed like a meringue, I could not make myself invisible, and so I chose a confident persona instead. Like many middle-aged women, I was accustomed to supporting and nurturing other people, letting my own dreams gather dust. Yet when I dressed as Marie Antoinette, I felt invincible, as if anything I chose to do was within my grasp.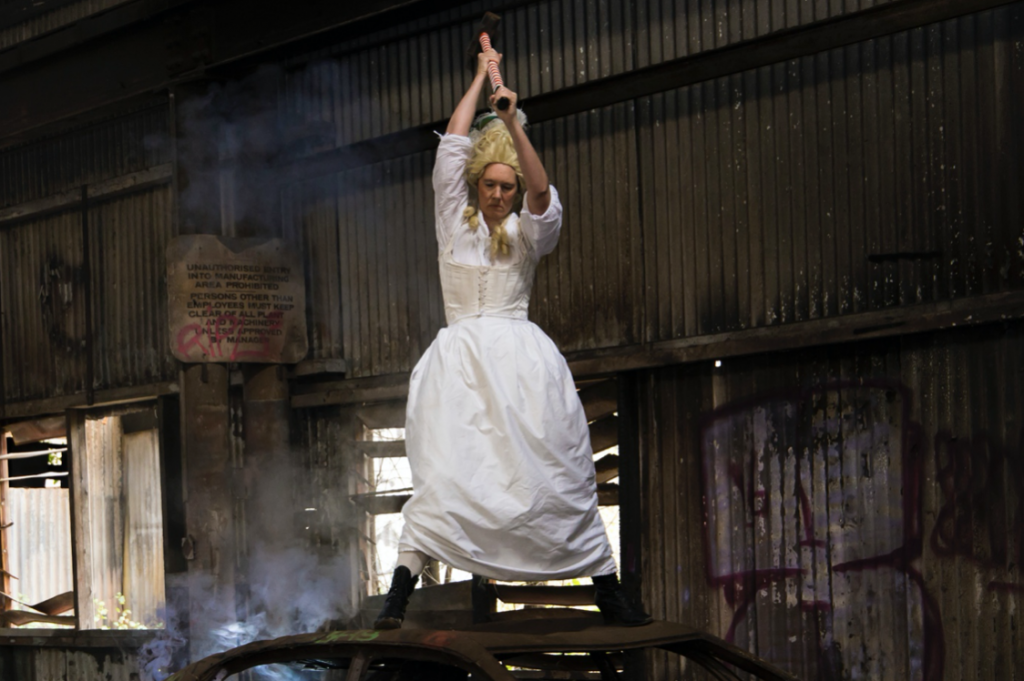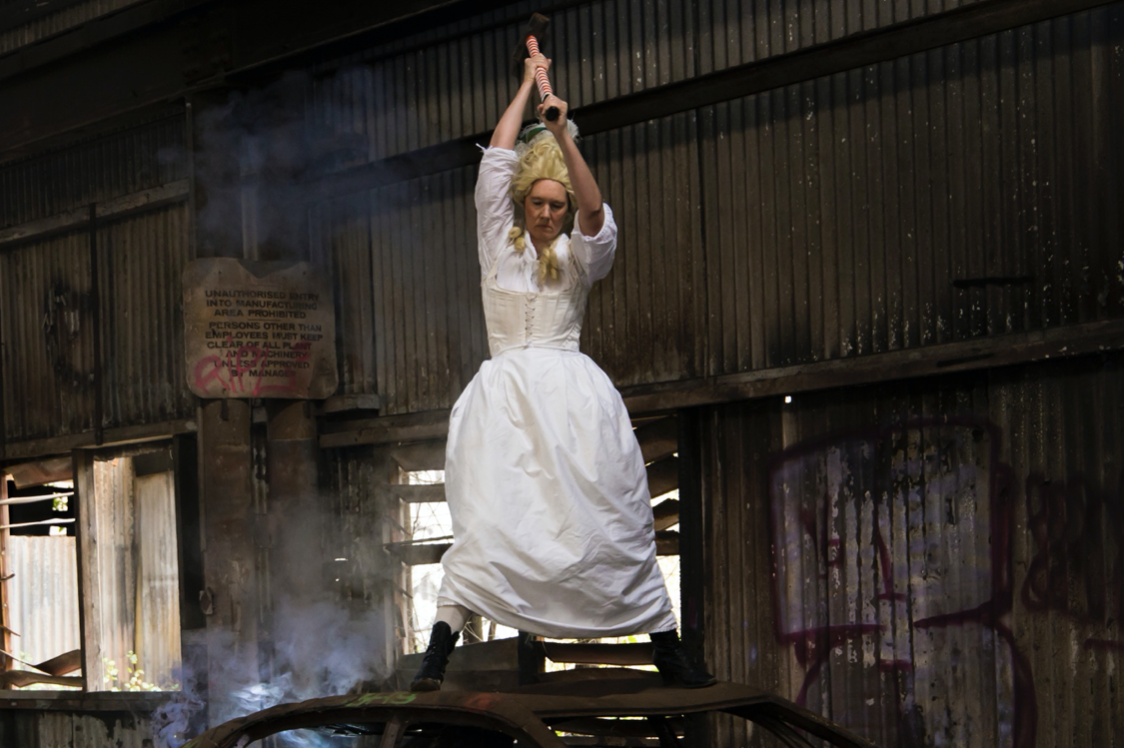 I described this revelation in an interview with the American novelist Debra Spark, which appears in her latest collection, And Then Something Happened:
I managed to get out of a cage. I sense there are a lot of people looking for a key.  

If I write clearly enough and well enough maybe it will be the key for other people.

I remember having no identity, no power, and no voice, then assuming the identity of a dead French queen and thinking I could do anything. I had that sense of absolute power.  I am interested in how you get from one to the other.
I felt that I'd found a key to a particularly female dilemma and decided to write a memoir about discovering self-efficacy through a very odd route. But as I needed to get to know my French Queen a little better, I applied for a L'AiR Arts residency in Paris and won a Create NSW grant so I could travel. The timing – though I didn't know it at the time – was momentous. I arrived in Paris in early January 2020 and returned home just as the pandemic began to close borders. (Interestingly, my 12 year old daughter, whose sole source of news information is TikTok and YouTube, recognised that COVID was serious long before I did).
If dressing as dead French royalty had been life-affirming, the opportunity to explore Paris with a group of creative professionals was equally transformative. I spent a month with an amazing group of international artists, writers, producers, dancers, actors and playwrights. I visited Versailles with two of my fellow residents: playwright Fiona Leonard of Germany's Blue Goat Theatre, and dancer Tsolak MLKE Galstyan of Armenia's MIHR Theatre. It was a bitterly cold day and I hadn't brought enough warm clothing, yet being in Marie Antoinette's domain felt like the end of a long awaited pilgrimage. Fiona took a photo of me writing in my travel journal in front of the palace's golden fence, and this became the short piece that will be published in the Spineless Wonders anthology.
My memoir about My Year as a Fairy Tale continues to unfold, the process of writing now becoming its own journey. During the early stages, I worked with Kathryn Heyman, the award winning author of Fury. Fascinated by the blurring of identities that occurred while impersonating a French Queen, I'm threading material about the real Marie Antoinette through the story of my life.