Podcast: Play in new window | Download (Duration: 13:12 — 18.2MB) | Embed
Subscribe: Google Podcasts | Email | RSS | More
Do organised crime syndicates serve decent carrot cake at their planning meetings? Ali and Emma discuss Jon Steiner's satirical 'Morning Meeting' performed by Ella Watson-Russell. Includes a great creative writing exercise to try. Let us know what you think of this episode on the Coffee Pod|cast Facebook page.
'Morning Meeting' is published in Jon Steiner's debut collection, The Last Wilkie's and other stories. Watch the book trailer here.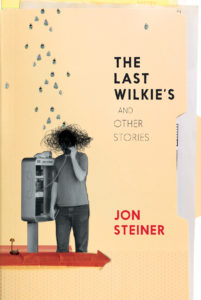 About the author
A native of Washington, D.C., Jon Steiner moved to Australia in 2000. He studied writing at the University of Technology, Sydney.  His work has been published in the 2007 and 2008 UTS Writers' Anthologies and Spineless Wonders' Escape anthology (2011). Two of his short stories, 'Gecko' and 'Robber' have been made into short films. Read more about this here. You can read an interview with Jon here. And you can watch a video interview with Jon, his editor Josh Mei-Ling Dubrau with host Emma Rose Smith, here.
About the actor
EllaWatson-Russell has worked across Australia and internationally as an actor, theatre maker, producer and drama tutor. Her acting credits include work for Kings Cross Theatre, Queensland Theatre Company, Teatre Satu, Browns Mart, Darwin Theatre Company and La Mama. Ella presents Little Fiction On Air on 2RPH
Credits
Presenters: Ali Morris and Emma Walsh
Producer: Bronwyn Mehan
Theme music: James Seymour
Coffee Pod|cast has been produced with the support of the Australian Government through the Australia Council, its arts funding and advisory body and we wish to also acknowledge the support of Little Fictions by the Copyright Agency's Cultural Fund and the City of Sydney Matching Grants program.