Description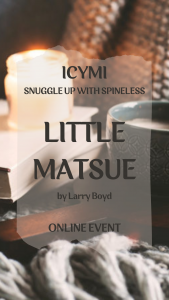 In case you missed it, please enjoy Spineless Wonders' second instalment of the Snuggle Up with Spineless Series all about Little Matsue and other tales by Larry Boyd. In this event, Larry Boyd  in conversation with journalist Sally Blakeney discussing the inspiration behind the stories in his latest book Little Matsue and other tales, his other work, the art and craft of short stories and storytelling. Audiobook narrator Mark Dessaix also makes an appearance all the way from NYC!
You can watch the video on our Youtube channel here where you can find lots of other online literary events and author Q&As. Or just click the play button below.

Now available as audiobook. Listen to a sample:

Purchase from Authors Direct
Also available on Nook | Libro | Kobo | Chirp  | Scribd | Google Play | Audiobooks.com | Audible (coming soon)
Little Matsue and Other Tales encompasses a magnificent thread of entangled journeys of acceptance and resignation, but also longing, and resolution. The uniqueness of each story comes from Larry Boyd's intricate and vivid storytelling, which allows the reader to effortlessly step into the point of view of the characters and connect to their most nuanced emotions. From the graphic, imaginative way a little girl interprets the world around her, to the surprisingly relatable dynamics displayed by a family of fish, Little Matsue and Other Tales brings about the perfect blend between realistic and fictional narratives.
'Boyd boldly dances through that liminal space between child and adult until your eyes leak and your body aches. Fiercely imaginative, Little Matsue, will have you whizzing through kingdoms and time, writhing with rage, seduced by new love and building with dinosaur bones. You will laugh at the Oceanic Olympics as much as you will mourn for the strong woman you've just met lying in the grave. This book is insightful, a little mad and deeply enjoyable.'
Kate Liston-Mills, Dear Ibis
'A gifted storyteller with a wry, original view, Larry Boyd is equally at ease in the worlds of 12th century China or the hip-hop community. His wonderfully diverse stories are full of sly humour and unexpected twists. There's the tragedy of a daughter of a Polish migrant navigating Australian Christmas at its ugliest, the misadventure of a servant in feudal Japan and even an ironic take on fishy tales. Boyd gets inside his characters; a child fantasising to escape feuding parents, a father struggling with his role as his baby son's primary carer, a teenage music student inspired by his first sexual experience. This is story telling at its traditional best.'
Sally Blakeney, journalist
'I was instantly transported through both time and geography when I opened this book of short stories. Boyd's world is at once intimate yet immense, and his stories treat us to the sounds, smells and sights of far-away people and places. What a joy to read!'
Kate Lidbetter, Arts sector manager
About the author
Larry Boyd is a writer living with a disability. He has worked in the field of disability arts for twenty years, including as director of Different Degrees Theatre Ensemble, a disability theatre company. Prior to this, he has been a lawyer, teacher, arts administrator, youth worker and actor.
Published by ES-Press, an imprint of Spineless Wonders