Carmel Bird wins Patrick White Award
Carmel Bird, a Spineless Wonders author whose name adorns our short fiction award, has won the 2016 Patrick White Award, given to a writer who has been highly creative over a long period but has not necessarily received adequate recognition.
Here she speaks with Sluglines …
How do you feel about winning the 2016 Patrick White Literary Award?
Lightheaded. That is how I feel. But what I think is that perhaps now more people will read my work, because that's what a writer really wants, apart from the joy of writing in the first place.
To be a bit more solemn about things — I am honoured to be listed with so many writers I admire.
While this award comes with a nice financial prize, it's still true that just five per cent of authors earn more than the average wage from their creative practice. Why keep writing when the rewards can be so slim?
I don't know what is true, and I imagine nobody does, but I do know that writers don't earn much money from writing. I would, however, contest the notion of the 'average wage'. Surely that's a lot more than what a writer makes? If it isn't, lady, we're in trouble.
I keep writing because writing fiction is the way I interact with what passes for reality. I love reading and I love writing, and writing fiction is pure pleasure. OMG it's so much fun.
How do you plan to spend the $20,000?
I plan to spend it on ordinary living expenses. Patrick's idea, I believe, was that the funds should help the writer to have, as they say, 'time to write'. Get the car serviced, pay the phone bill — you know the kind of thing. Buying avocados, I hear, is also important in its way.
What's your favourite Patrick White novel or play?
I adore The Aunt's Story.
And I also love The Cheery Soul although it's also almost unbearably terrible as it reveals the 'soul' in question. But it does dramatise one of Patrick's favourite ideas, which is that of the 'sin of goodness'. It is an idea that I am interested in and that surfaces sometimes in my work. Flaws in the Glass — well, I actually like all of it — I have only recently started to read Happy Valley.
What do you have to say about your involvement with Spineless Wonders over the past five years?
The motif of the butterfly informs a fair bit of my work so, hey, it's nice to have a publisher that is also a butterfly.
Memory plays tricks, of course, but this is how I remember it:
I first heard of SW when Bronwyn Mehan sent me an email asking me if I would like to have the short story award named after me. This was weirdly thrilling as I was not dead, and yet it cast a little shadow of the shape of things to come. (But I have not died. Oh you will, Carmel, you will.)
I really admired what Bronwyn was doing with the press.
One day a writer in Queensland, Simon Groth, invited me to write for a blog. The topic was something about how I, as an olde worlde writer, was using the internet. Now I was in fact the first Australian writer to have a website (1979) so I suppose that was interesting. But, once you have said that, what else is there to say unless you are kind of doing something? (I was updating the site but so what.) So, since I owned the rights to Dear Writer (I usually license my books so that at the end of the licence period everything reverts to me and I can renegotiate the matter) I thought, 'I know what, I'll say I'm going to make Dear Writer into an e-book!' So I wrote an essay about all that. Simon published the essay on the blog and then he said, 'So now you need to write another essay describing the process.' The what? Okay. So I thought I would really do it. However, I didn't have the skill. But I knew Bronwyn was making e-books, and I approached her for help. Her brainy idea was that she could make an e-book but she could also make a book! So she did that. Dear Writer Revisited (2014) is a complete reworking of the original Dear Writer of 1987 or so.
Over that time, Bronwyn had published some of my short stories, and she probably asked me if I had a collection. Or perhaps I said to her, 'Look here I have a collection.' 'Oh yes,' she said, 'let's make it into a book.'
Anyway, in 2015 SW published the collection My Hearts Are Your Hearts. This was another very enjoyable experience and my admiration for Bronwyn as a publisher became even more enthusiastic.
I have a great time being a Spineless Wonders author.
Why was it important to you to have Dear Writer Revisited and My Hearts Are Your Hearts published?
I know that Dear Writer is a very good book for writers (and for readers I believe) and that students benefit from it, and I wanted writers to have it available. This may sound pious, but in fact it is perfectly sincere and straightforward.
Having it in print again is great.
A writer (this writer) loves to be able to handle a book that contains a bundle of her stories — and to be able to offer these stories, together, to readers. I am proud of all my books. Furthermore, My Hearts Are Your Hearts is not only stories; it also contains reflections on each story, taking readers into the life of the writing of the story.
I think that can be pleasurable and useful for readers and writers.
How do you feel about the Carmel Bird Award — its recipients and related publications?
I am really proud of the award, delighted that people enter their stories, and I love reading the work of the winners, hoping they will be encouraged to go on to bigger things (I mean success as writers, not bigger books or anything).


The spotlight's on … us!
Books+Publishing shone its 'small publisher spotlight' on Spineless Wonders in September.
Publisher Bronwyn Mehan responded.
Describe your company in under 50 words.
Spineless Wonders publishes long and short stories, novellas and verse novels. Since its inception in 2011, it has championed 'microlit', a hybrid of micro-fiction and the prose poem. A multi-platform publisher, Spineless Wonders showcases short Australian stories in print, digital, video and audio formats as well as on stage.
Why start a publishing company?
In 2010, when I was writing, reading and teaching short fiction, there simply was no press devoted, exclusively, to publishing the short form in Australia. Even Louise Swinn and Zoe Dattner, the undisputed goddesses of all that was edgy and marvellous in the short story space in Australia, confined themselves to the Almanac—in print and later as an app—and remained seemingly gun-shy of collections. Affirm Press was putting out a limited series of single-author collections. The Review of Australian Fiction was still an idea jotted down on the back of a beer coaster. The field was tantalisingly bare. I had the means, a driving passion and a possibly fatal attraction to fill a niche.
What book did you launch with?
By May 2011 we launched both Spineless Wonders' and Julie Chevalier's debut collection, Permission to Lie. This first book set the standard for what would follow. Our tagline is 'short Australian stories' and Julie was a New Jersey-born Sydneysider. A former art teacher from Long Bay Gaol, Julie turned to writing fiction in her early seventies and she is still one of the most experimental writers I know. Another hallmark of this first publication was that it was illustrated—the first of many collaborations between debut authors and talented, emerging artists, in this case, Paden Hunter. And, like all of the titles to follow, Permission to Lie attracted positive, high profile critical attention, namely in the Australian and Short Review (UK).
How many people do you employ?
The various work of Spineless Wonders is carried out by its founding publisher and a team of editors, proofreaders, graphic artists and publicists engaged on a casual contract basis.
What makes your small press unique?
Apart from its distinctive focus on a range of sub-novel-length prose forms, Spineless Wonders is unique as a multi-platform press. It showcases stories in print, digital, video and audio formats as well as in live performance and innovative, interactive installations known collectively as #storybombing.
What has been your biggest success?
We were very proud to see Jen Craig's novella Panthers and the Museum of Fire longlisted for the 2016 Stella Prize.
What has been your biggest challenge?
Balancing enthusiasm and sustainability.
Which book by another small press do you wish you'd published?
In 2012 we published Cracking the Spine, which includes 10 stories along with essays by their authors about how they were written. Our aim has been to produce a similar book focusing on microlit, a form we have championed since our inception. US publisher Rose Metal Press published a series of field guides to writing microfiction and prose poems, which include essays, examples and writing prompts, and are ideal for people interested in the micro form. Dead jealous.
What will you publish next?
To date we have published five anthologies of microlit. In December, we release Loopholes by Susan McCreery, our first collection of microfiction, each no longer than 250 words, by a single author. As Carmel Bird says of Loopholes, 'Its insights into the psyche are both chilling and hilarious.'


Spineless Wonders features at BEAMS
Four pieces of Spineless Wonders microlit were featured during the 2016 BEAMS Arts Festival in Chippendale, Sydney, in September.
The #storybombing included videos by emerging Sydney artist Emily Twomey along with microlit flyers using graphic design by Bettina Kaiser (pictured above left).
BEAMS is a multi-disciplinary arts festival showcasing work from the whole spectrum of the arts, with creatives coming together to 'surge the voltage of ideas and inspiration'. It is described as a 'flash in the night of colour, form, movement and sound', with food, music, lights, installations and videos.
Twomey (pictured above right) draws on her background in illustration to create short animated films that are whimsical and surreal.
For BEAMS she produced films based on microlit from two Spineless Wonders anthologies, Out of Place and Flashing The Square. The four pieces were 'Flash Fiction Rules #1' by Julie Chevalier, 'City Circle' by Mark Roberts, 'Sans Relache' by Ali Jane Smith and 'Broken House' by Charles D'Anastasi.
Ranging in tone from playful to menacing to mournful, the stories, screened in a terrace house and as part of a showreel shown in three locations around the Central Park precinct, meditated on the essence of what it means to exist in our complex society.
Spineless Wonders Publisher, Bronwyn Mehan, taken by Twomey's 2015 installation in Pine Street Gallery, invited the young artist to work on the stories for BEAMS.
While Twomey found it challenging to match the pace of the text to the images so the stories were still readable, she said she was definitely keen to make more films—both pursuing her own ideas and collaborating with Spineless Wonders.
Mehan said she was proud to have work in BEAMS and was pleased a wider audience could enjoy the stories.
'A lot of people here are just drawn to the beautiful images that Emily has created. So I think it's really brought together image and text to put our short stories into a format that's clearly so accessible. What more could a publisher ask for?
Twomey's work is linked to Spineless Wonders' ongoing #storybombing project, conjured by Mehan and others to get more short stories into people's hands.
Kaiser, part of the #storybombing team, said, 'In this particular #storybombing initiative, writers, artists and sound people came together to bring these stories to life but, most of all, bring them out into the world.'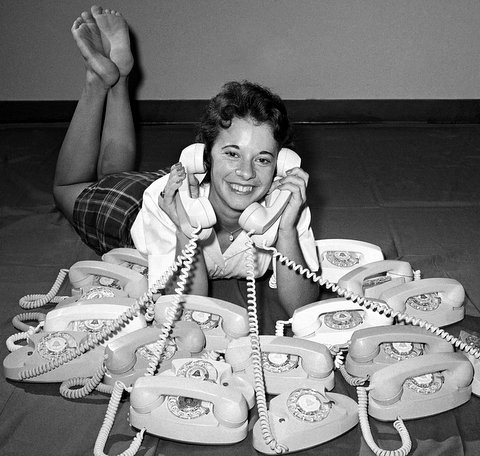 Dial-a-story? Don't mind if I do!
Remember push button phones? Punching in the numbers and phoning a friend because — outside of face-to-face contact — calling them was the only way to find out about what they were up to? Spineless Wonders' StoryPhones captures this whimsical nostalgia and ties it together with the art of literature.
How does it work?
StoryPhones is a pairing of three forms of media — the written word, the spoken word, and push button phones. These phones have been refitted to hold twelve short stories, which play when you press a number on the dial pad. Instead of using the dial pad to call out, you are essentially using the phone to listen to an audio story. Each story is under two minutes long, written by Australian authors and performed by Australian actors. These stories have previously been published by Spineless Wonders in short story anthologies. They are performed and recorded at live shows hosted at Knox Bar in Chippendale, in a show called Little Fictions.
Which authors and actors feature first?
The first twelve stories available on StoryPhones are by Michelle Wright, Jenni Nixon, Shady Cosgrove, Richard Holt, Susan McCreery, Irene Wilkie, Vivienne Plumb, Kelli Hawkins, Cameron Semmens, Todd Morgan, Karen Whitelaw and Ruth Wyer. Actors that read the stories include Tim McGarry, Lauren Hamilton Neill, Eleni Schumacher, Todd Morgan and Ella Watson-Russell. They are inspired author-actor pairings so, if you see a StoryPhone, make sure you listen to the lot.
Who else made the StoryPhone project happen?
It's been a team effort: From Jack McAuley working on the audio files, to our operator, Felicia — aka Little Fictions' Kate Fraser — recording intros, to Lloyd Sharp reconfiguring the phones, we have the best in the business to deliver this experience to the public. The full team includes Bronwyn Mehan (Producer) Lloyd Sharp (Story Phone Developer) Mark Lesze, Jack McAuley and Marisa McTeigue (Audio Team), and Kate Fraser (Voice Artist) and me, Jordan Meek, (Publicity).
What else is good about StoryPhones?
It is such a creative way of releasing audio stories to the general public, and it will get people excited and talking about Spineless Wonders and Little Fictions.
Where can I dial-a-story?
The phones will be available at the Newcastle Writers Festival in 2017. Stay tuned to find out where else the phones will pop up in a café or festival near you.
This is an edited version of a blog post by Jordan Meek, who is a University of Sydney publishing intern with Spineless Wonders.


Landmarks finalists announced
The longlist for the inaugural 2016 Newcastle Writers Festival/joanne burns Microlit Award has been announced.
The award, for stories of up to 200 words on the theme of 'Landmarks', was jointly sponsored by Newcastle Writers Festival and Spineless Wonders and includes categories for Newcastle and national entries.
Finalists for the national category, judged by Cassandra Atherton, are: 'After the Storm', Emma Ashmere (NSW), 'My Mother's Song', Gavin Austin (NSW), 'The Turning', Danielle Baldock (NSW), 'Before and After', Tenzin Bereny (Qld), 'Lost in Translation', Maree Gallop (NSW), 'Barunga Conversations', Tim Heffernan (NSW), 'Drought', Hilary Hewitt (NSW), 'The Shape You Make', Marjorie Lewis-Jones (NSW), 'Shot Tower', Karen Manton (NT), 'The City was Growing Inside Her', Harriet McInerney (NSW), 'Fragment from a Western', Mark O'Flynn (NSW), 'Fly in Fly out', Tess Pearson (NSW), 'Ochre', Jennifer Porter, (SA), 'Mum's Garden', Lisa Reily (NSW), 'Infinity Loops', Jen Saunders (NSW), 'Amelie', Pamela Seckin (NSW), 'Perpetual Motion', Samantha See (NSW), 'Underpass', Janet Thomas (SA), 'Paper Lining', Elisabeth Tyson-Doneley (Qld), and 'The Span', Jodi Vial (NSW).
Finalists in the Newcastle category, judged by Joanna Atherfold-Finn and Karen Whitelaw, are 'Breakwall' by Dael Allison and 'As We That Are Left' by Amanda Berry.
Entries shortlisted for the national category will be announced on November 1 and winners of both categories will be announced at the 2017 Newcastle Writers Festival.
All finalists will be published in the Landmarks anthology along with invited writers from across Australia. Landmarks will be officially launched at the 2017 Newcastle Writers Festival.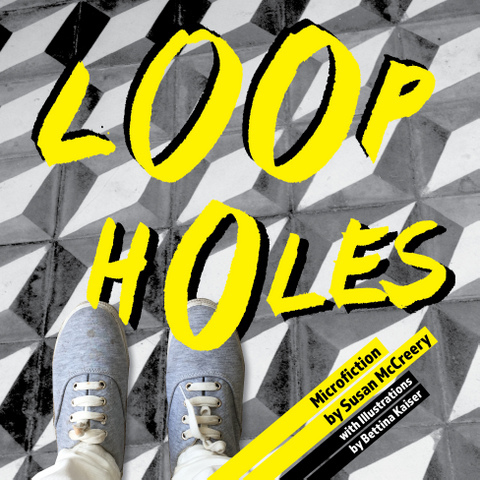 Microfiction, family and loopholes
Susan McCreery's latest book, Loopholes, a collection of over 60 stories, will be proudly published by Spineless Wonders in December.
The book was inspired in part by French Poet Baudelaire's Le Spleen de Paris.
As Baudelaire brought frank insight into the urban alienation in 19th century Paris, McCreery reveals the complexity of 21st century Western life though the lens of family, relationships, love, loss, growing up and aging.
Her characters are rich and complex.
'I do like writing about people who are flawed or confronting something,' McCreery says. 'I don't want to particularly write or read about people who have got everything solved.'
McCreery's perfectly formed microfictions provide glimpses into the everyday challenges of family life. Her characters are typical humans – flawed, vulnerable, frustrating and frustrated. Told with empathy and wit and honed with a wordsmith's skill, Loopholes makes us see ourselves and each other differently.
Loopholes will be available from December 1 through local bookstores and online via Booktopia. Pre-release copies of are available from Spineless Wonders.

Sydney Fringe? We were a main event!
Our Little Fictions@Sydney Fringe events were a hit.
We crawled inside the minds of crims at 'Crime Scenes' on September 26 and trawled the slithery streets of Sydney at 'Sydney Stories' on September 19.
We heard uncanny tales from the Twilight Zone at 'The Great Unknown' on September 12 and were showered with feminist tales for women and men at 'Vaginal Spray' on September 5.
MCs Monique Schafter, Adam Norris and Jack Gow (pictured) kept the amazing array of actors reading the stories on track and the wonderful Knox Street Bar in Chippendale fed the punters.
Spineless Wonders loves the Sydney Fringe Festival and with these four shows felt we were a main event.

Picture this!
When Little Fictions presented Humans of Parramatta Road in October, artist Daniel Lethlean Higson (pictured right) decorated the walls of Knox Street Bar with murals inspired by John Dale's Parramatta Road piece, performed by Joel Horwood.
Stories from Leichhardt, Petersham, Camperdown and Annandale were penned by John (pictured in front of the mural) and other award-winning authors Jen Craig, Margaret Barbalet and Julie Chevalier, as well as an array of new and emerging writers such as Harriet McInerney, Jill O'Meara, Karolina Ristevski, Helen Meany, Tess Ridgway, Sarah St Vincent Welch and Arna Radovich.
More photos from the night can be found here.
Coming up at Little Fictions is Comedy Knox on Tuesday November 8, a night of funny, wry and satirical stories read by talented actors at Chippendale's groovy Knox Street Bar. For ticketing, see below.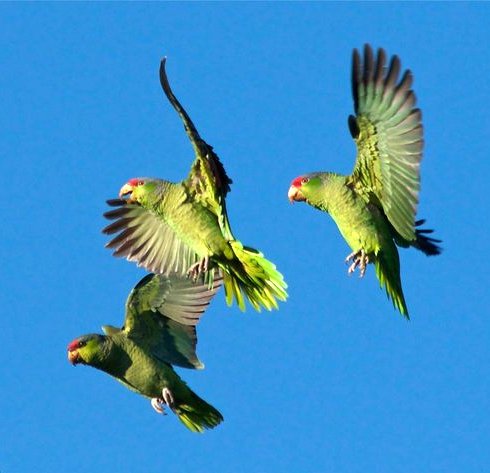 'Quote' unquote
Later, their guide grabs their hands and drags them down an alleyway. The stink of excrement is so overwhelming they have to hold their noses. But then he leads them down another lane and through an archway into a beautiful courtyard. Water tumbles from an ancient fountain and the intoxicating fragrance of sandalwood—the exact smell of a lover's body—fills the air. Plants of impossible verdancy shimmer in the cool. And while they stand there laughing with astonished enchantment, three huge, fabulously brilliant parrots descend out of the blue square of sky and alight upon Angela's shoulders and hair. She cries out in fear and delight, spreading her hands and shivering at the extraordinary sensation of their claws.
Their guide capers and his face splits into a grin full of gaps and betel-stained stumps. 'Oh, very good luck for the lady. Very very good.' Angela's eyes shine wet, and the guide goes on congratulating her and wobbling his head. 'Yes, yes …'
'Angela's Parrots' in Faultlines by Pierz Newton-John

Competition
Susan McCreery's new microfiction collection Loopholes is out soon.
Most of the stories are in prose, fable-like and quirky. All are short but they immediately take you to a special time and place. They linger in your mind long after you have turned the page.
To win a copy, tell us how Susan 'escapes'. Email with your answer in the subject line.
Dates for your diary
November 8 - Little Fictions @ Knox Street Bar: Comedy Knox, 7-10pm.
December 13 – Little Fictions @ Knox Street Bar: Xmas Mash Up, 7-10pm.